Peaches with husband Thomas, father Bob, and baby Astala

Nepotista Peaches Geldof, the daughter of musician, concert organizer, and fundraiser Sir Bob Geldof, and her current husband, former S.C.U.M. lead singer Thomas Cohen, have welcomed their second child, a son they've named Phaedra Geldof-Cohen. Usually, Phaedra is a girl's name, but in the Geldof family, a weird name is par for the course and the least of your troubles. Peaches and Thomas have another son, Astala Dillon Willow, who was born last April. Phaedra was born on 24 April 2013, which would've been the 54th birthday of his maternal grandmother, the late Paula Yates.
Paula Yates

Paula Yates was a Nepotista herself, the daughter of British television personality Jess Yates and actress-turned-erotic novelist Elaine Smith (aka Heller Toren, now Hélène Thornton-Bosment). According to Elaine/Hélène, her own mother, Gertrude, was a sedative addict who pimped Elaine into beauty pageants for the prizes. She met Jess Yates backstage at a beauty contest when she caught him trying to photograph her while she was changing. It was her 17th birthday, and he was 36 year old BBC tv producer.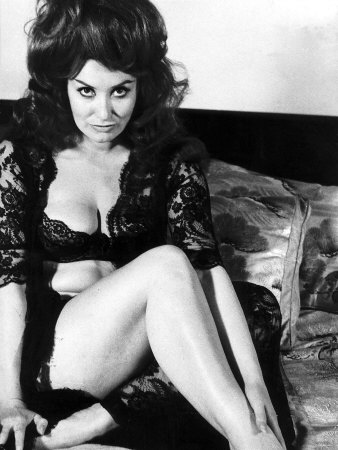 Elaine/Heller/Hélène

In 1958, Elaine got over her repulsion and married Jess Yates. Ten months later, Paula was born. She was their only child. According to Paula, her mother was self-centered and ignored her, and her father was bizarre and abusive. Her parents also operated a Welsh hotel which Paula said made Fawlty Towers look like a five-star establishment. Young Paula developed anorexia and started experimenting with boys and drugs.
"The Bishop"

When she was 15, Paula's dad was the very popular host of a Sunday morning religious program on Yorkshire TV, nicknamed "the Bishop," as well as head of that channel's children's programming. That year, his career ended when it was revealed that the Bishop had been having a 5 year affair with actress Anita Kay, then 22. The public outrage was such that Jess had to be smuggled out of the YTV headquarters in a car trunk. He and Elaine, who were already separated, divorced the following year.
Young Bob and Paula with David "Buster Poindexter" Johansen and Liv Tyler's mom, Bebe Buell

By 1975, Paula had quit school to pursue fame in London. She got her first taste of it posing nude for Penthouse magazine and dating punk rocker Richard Hell. Then she met Bob Geldof, not yet a Sir, but the lead singer of Irish band The Boomtown Rats. Paula determined to make him her husband and basically stated stalking him. In the meantime, she followed in her parents' footsteps by writing a book ("Rockstars in their Underpants") and becomimg a tv presenter (co-hosting The Tube with musician Jools Holland).
Bob & Paula's wedding photo, featuring David Bowie, George Michael, and members of Duran Duran

In 1983, Paula had the first of her improbably named daughters, Fifi Trixiebelle Geldof, while Bob was still dating actress and rock groupie Claire King. Two years later, INXS lead singer Michael Hutchence appeared on The Tube. Paula, infatuated, stalked him for a time, even bringing baby Fifi to INXS concerts. Finally, in 1986, she and Bob Geldof married in an extravagant, star-studded ceremony. They had two more daughters, Peaches Honeyblossom in 1989 and Little Pixie in 1990.
Paula, Bob, and the girls
Motherhood inspired Paula to write two books about domesticity, but she continued her career in entertainment. Somewhere along the line, according to actor Rupert Everett, she conducted a six year affair with him, even though he is gay! And then hubby Bob produced the tv show The Big Breakfast, where Paula interviewed celebrities in a bed, including, notoriously and fatefully, in 1994, Michael Hutchence.
The infamous interview

Paula had kept in touch with Michael over the years, and they were already having an affair by the time of this fateful interview. When their relationship became public, the Geldof marriage was over, and so was Paula's tv career. Bob and Paula separated in 1995 and divorced the following year, after a bitter custody battle. A few months after the divorce, Paula gave birth to Michael Hutchence's daughter, Heavenly Hiraani Tiger Lily. A month later, their nanny found opium in Paula and Michael's house while they were out of the country. They claimed the drugs were planted, but Paula was charged with possession. The charges were dropped, but Bob Geldof successfully sued for custody of their three daughters.
Michael and Paula with baby Tiger

In 1997, British television personality Hughie Green died, and a journalist friend of his revealed that Hughie was Paula's biological father and not Jess Yates, who had died in 1993. Hughie, an alcoholic and serial philanderer, had worked with Jess, but hated him so much that
he was the one who leaked the story of Jess's affair (to the same journalist friend) which ended Jess's career back in the 1970s. Her mother admitted the affair, but denied that Hughie was Paula's father. Paula, who had never before doubted her parentage, submitted to DNA testing alongside Hughie Green's son and daughter.
Hughie Green, Paula

Meanwhile, Michael Hutchence was found dead in an Australian hotel room while on tour with INXS. His death was eventually ruled a "suicide while depressed and under the influence of drugs and alcohol." At the time, Paula said Michael was upset over being separated from their daughter, Tiger, and she insinuated that Bob Geldof had threatened them, repeatedly saying, "Don't forget, I am above the law." Later, she insinuated Michael accidentally died via autoerotic asphyxiation. According to members of the Hutchence family, Paula had made multiple threats to kill herself and Tiger, including on the day of Michael's death.
Paula and Tiger

One month later, Paula received the DNA test results indicating that she was indeed Hughie Green's biological daughter. It devastated her to lose her father, her identity, and her lover at the same time. By 1998, Paula had entered a mental hospital, went to rehab, attempted suicide twice, and lost custody of her Geldof daughters again. She battled the Hutchence family for custody of Michael's estate, his ashes, and his daughter with her. She had a broken engagement to Scottish musician Finley Quaye and a 6 week relationship with a 26 year old she met in rehab, who told the tabloids she slept with Michael Hutchence's ashes.

In September 2000, Paula Yates, 41, died in her London home of a heroin overdose. She was reportedly discovered by her then-4 year old daughter Tiger, who was alone in the house with her, and thought she was sleeping. Following Paula's death, Bob Geldof was granted custody of Tiger Lily Hutchence. Michael's family fought for custody, but it was decided that Tiger would be better off raised with her sisters. In 2008, her surname was changed to Geldof, a move which was also opposed by the Hutchences.
Paula's girls in 2010 - Fifi, Tiger, Pixie and Peaches

Supposedly, eldest daughter, Fifi, 17 when Paula died, took over the role of mothering her younger sisters. She was arrested for drunkenness on the second anniversary of Paula's death. Other than that, she keeps a relatively low profile.

Pixie, now 22, is a model and sings for a band called Violet. She has been photographed drunk and caught topless with sister Peaches, but hasn't had any public arrests or drug problems. She's dated American actor Evan Peters and been linked to One Direction member Harry Styles, actor Nicholas Hoult, and British comedian Noel Fielding (who Peaches had previously lied about dating).
Peaches

Unfortunately, Peaches seems to be the daughter who most takes after her mother. She's been a columnist, tv presenter, and model since her early teens.  Between 2006 and 2011, she was accused of shoplifting five times, but managed to escape prosecution. In 2008, she was questioned by police after being filmed buying drugs by a tabloid newspaper.
That was the same year she traded one obscure musician (Faris Badwin of The Horrors) for another (Max Drummey of Chester French). Peaches and Max eloped to Las Vegas and celebrated with matching hand tattoos! Six months later, they announced their separation, although he didn't bother to file for divorce until 2011.
Peaches and Max show off their wedding tattoos

In 2009, Peaches announced she'd gotten into Scientology. The following year, naked photos of her were posted on the internet by a man who claimed they had a "heroin-fueled one night stand" which ended at the Scientology Celebrity Center in Los Angeles. Peaches denied using heroin, but the incident caused her to lose a lucrative modeling contract. At the time, she was dating "torture porn" movie director Eli Roth, who wrote a long internet screed in her defense.
Peaches with Marilyn Manson and Eli Roth

In 2011, Peaches claimed to have dated a female-to-male transsexual and announced her engagement to Eli Roth-lookalike Thomas Cohen. Reportedly, she converted to Judaism before their church wedding in September 2012. Five months later, their first son, Astala, was born.
Peaches displays her parenting skills
Shortly before second son Phaedra was born, Peaches tweeted her support for the Ordo Templi Orientis, a Freemasonically inpsired mystical organization made famous by the British occultist, Aleister Crowley. Crowley, who was dubbed "the wickedest man in the world," notoriously overindulged in sex, drugs, and magickal practices. In that sense, Peaches has outdone her mother, who never publicly expressed an interest in the occult.
Peaches' latest ink